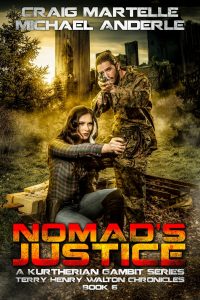 SNIPPET 04
Terry Henry Walton Chronicles – Book 6, Nomad's Justice
I looked at the calendar and realized holy schnitzengrubens! It's been three days and I need to drop a snippet while I'm waiting for the manuscript back from my editor.
Here I am enjoying the warm weather. I've broken my shorts out and am ready to wear them. It's getting to 50F during the day which is definitely shorts weather in the sub-Arctic. But there's so much melt that the muck boots and shorts aren't a good look, so I'll stick with jeans until we're clear of the residual snow.
In any case, enjoy the fine spring weather and the latest snippet…
http://www.craigmartelle.com/apps/blog/show/44466127-nomad-s-justice-snippet-04
craigmartelle.com
Craig Martelle Author
Publications of Craig Martelle, both fiction and science fiction, all action/adventure.