Introducing Sarah Noffke!
We have an author that we want The Kurthierian Universe to meet, Sarah Noffke. Sarah writes a variety of things, and her latest book is a Paranormal, Science Fiction, Thriller, which we thought would be right up your ally.
Stay tuned for an upcoming announcement regarding Sarah and an exciting new project we've got cooking.
Check out the blurb to her book and if it lights your fire, then click the link below to learn more about Alpha Wolf: A Paranormal Science Fiction Thriller (Olento Research Book 1).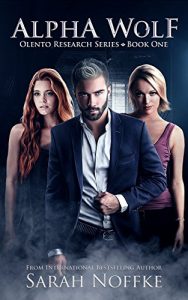 Twelve men went missing.
Six months later they awake from drug-induced stupors to find themselves locked in a lab.
And on the night of a new moon, eleven of those men, possessed by new–and inhuman–powers, break out of their prison and race through the streets of Los Angeles until they disappear one by one into the night.
Olento Research wants its experiments back. Its CEO, Mika Lenna, will tear every city apart until he has his werewolves imprisoned once again. He didn't undertake a huge risk just to lose his would-be assassins.
However, the Lucidite Institute's main mission is to save the world from injustices. Their best agent, Adelaide Lewis, needs to find these mutated men and protect them and society, and fast. Already around the nation, wolflike men have been spotted. Attacks on innocent women are happening.
http://kurtherianbooks.com/pent
Find out more about Sarah and her books at  www.sarahnoffke.com