UNEDITED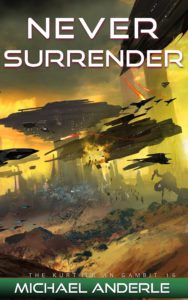 Tabitha's voice called back out from her room, "Hey, so, while I go on this operation with a few of the Tontos, what you going to be doing?"
Anne walked to Tabitha's door and leaned against the opening. "I've been told that I will get my own small suite in about three or four days. So, when you get back you won't have a roomie anymore."
Tabitha looked up from the little gym bag of extra supplies she was taking with her. "Really?" Tabitha looked around her room. "God, it will be so good not to have to be so clean all of the time."
Anne looked at her, annoyance on her face. "What? Are you saying you're not naturally this clean?" She pointed around the room to all of the areas that were spotless.
Tabitha chuckled. "Hell no. I'm only this clean because I had a teenager here sharing my suite all of the time. I had to set a good example. If you weren't here, I would have been messy. When I know somebody is coming over, I will throw it all into a basket and stick it somewhere in the back of the closet. I'm not that much older than you for Pete's sake."
Anne continued looking at her roomie, mouth open. Finally, she threw up her hands and turned around. "I'll bet you I'm cleaner than you are without you putting in the extra effort." Tabitha smiled as the young woman walked away.
It wasn't that Tabitha was a very messy person; it was just that she was a very busy person and whatever she was working on next had her attention. Slowing down to do something like, oh … cleaning up dirty clothes, never seem to have the highest priority for her.
She finished adding the extra supplies she wanted to her go bag. Stepping back into her closet, she grabbed her work clothes and laid them out on the bed. She was going in her black leather outfit this time, with the extra armor that Jean had supplied.
She walked back to her closet and started pulling out different boxes labeled with symbols that she had created. They were the different tools and tricks that she enjoyed using as a Ranger.
She made three trips into the closet and back out, setting boxes down on the bed. She looked at what she had laid out so far, and then considered what she still wanted from the closet and spoke aloud, "Achronyx?"
Her personal E.I. came back, speaking from her tablet on the dresser, "Yes?"
"Do me a favor and order a transfer cart to the suite. I've got too much stuff right now. And then take it down to the ship in Bay 212. I understand that will have the ship we are using for our trip."
Her E.I. responded quickly, "Request taken care of."
Tabitha raised an eyebrow. This was the easiest Achronyx had been in the last three days.
Normally, he was a pain in the ass. If she had time, she would have Adam take a look at her E.I. and find out what seemed to be wrong with him. However, it was one of those cases where she never seemed to have enough time, or when she had time, she never thought about it.
He had to be the most recalcitrant E.I. that she had ever had to deal with. If she didn't know any better, she would swear Achronyx was made up of a bunch of IBM PC Junior's all strung together.
Tabitha exited her room and crossed the suite towards Anne's. She was going to give the teenager one more hug goodbye.
Just to make sure that Anne was doing okay.
---
FROM MICHAEL >>> Ok, I was slightly chastised for the paucity of Snippets for Never Surrender on the Amazon Forums  😉
It was bound to happen, as I am trying to juggle new stuff, and 'get my groove back.'  I am … Let's just say not as efficient at the moment. 😉
Since Friday when I wrote last on here I successfully landed (always a good thing), TS Paul has finished his book, I've finished my part of the editing and we will go to JIT in the morning, I think and I've tried to catch up on many small things. I finished Chapter 13 of Never Surrender, just 12 more chapters to go on this book… Then I have to re-read Michael's book 01 to get my mind back into that story so I can start on Book 02 in The Second Dark Ages series.
This week, we should release the aforementioned Etheric Academy – Alpha Class 02, Nomad's Fury (THWC05) on Wednesday, and Restricted: The Rise of Magic 01 this week as well.
Justin Sloan and I are looking to release our next books by EOM.
Finally, for those who have followed my 'how did I get started writing' story, my oldest son is looking to release his first book in his series in about a week and a half. It sounds like he is going to use 1/2 pen name, 1/2 real name.
Creatives, what are you going to do?  They think differently 😉
Today, I'm going to highlight one of the collaborators who is starting a NEW series, a PNR / Space Romance set during the 3rd arc of The Kurtherian Gambit, and focusing on the Queen's Rangers that join during that time.
A note for many of my readers, Holly writes STEAMY books, this is going to have scenes in it that will cause me to blush while editing.  This isn't a typical Michael Anderle, bedroom door closed type of book.  For those who are wanting a more PG experience, J.L. Hendricks will be writing a series focusing on the Queen's Guardians and Guardian Marines (door closed.)
So, a little about my collaborator: Holly Dodd is an award-winning author. Her novel won the 2016 RWA Beacon award for unpublished romantic suspense. Her fans classify her stories as steamy and intense with a little bit of funny and a lot of emotion.  (I sound so awesome, but I totally ripped that from her bio.)
Here is a taste of one of her romance books… Once again – DOOR IS WIDE OPEN in these books.  Not erotica, but steamy … Or so I am told. 🙂
Giving it Up (Brewhouse Book 1)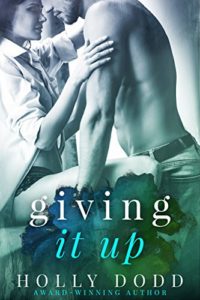 Jolene "Jo" Miller has been panting over her crush for years. He's everything she wants: a gentle giant with kick-ass ambition and a rock-hard body that she's dying to ride. The problem is, she's stuck in his friend zone due to one embarrassing reason – she's untouched.
Jo's crush has no interest in popping her cherry. She'll need to take some drastic measures to get her crush's attention, and Jo has the perfect candidate to punch her v-card.
Kevin Harris is an unapologetic manwh*re. With his panty-melting smile and chiseled body, he has his choice of tits and ass. His motto: hit 'em hard and leave them aching for more. Relationships aren't his thing, and they never crossed his mind until he met Jo. She's everything Kevin doesn't know he wants. She makes him tingle, and not just below the belt. But Jo's not into it, she's the only girl who doesn't want to ride the Harris express. They're just friends until Jo asks him to help her with some sexual education.
One kiss, one taste, he's hooked. Now Kevin has to convince Jo that he's the perfect man for her. He craves being a permanent fixture not only in her bed, but in her life. Will she give him the chance?
Warning: This sexy romance novel contains a fed-up virgin who thinks she knows what she wants, and a dominant alpha male guiding her down a kinky path.
This is a standalone story set in an interconnecting series with a HEA and NO cheating.