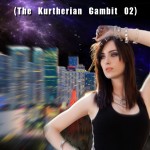 The latest release of The Kurtherian Gambit Series, Queen Bitch, has been released!  It is available exclusively on Amazon for the next 90 days.  I really appreciate the reviews for Death Becomes Her and I hope everyone likes the next installment.
In this book, Bethany Anne needs to finish up with Stephen, Petre's maker and get back to America where the Forsaken have been killing agents too easily.  Nathan comes back to help Gerry figure out how to quell some young Were's who are chaffing under the Strictures Michael put in place.
Free for Kindle Unlimited and Lending library.  Only $2.99 for those who purchase!